How to hold the bow - Basics 2/3
This is the second of 3 beginners videos:
1- The Violin
2- The Bow
3- First Notes
These 3 videos are the foundation on which you can build the rest of your studies.
The parts
Let's first have a look at the different parts of the bow

The hair is from the horses tail and bleached.
We need to apply rosin to it to make it sticky.
This makes the string vibrate.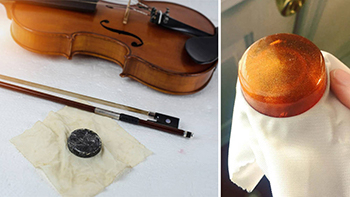 With the screw you can put tension on the hair, do not overdo this as the stick might break at the tip.
Use the "pencil trick" which I explain in the video.
How to hold the bow
This is dealt with in the video below.
The better you master the correct bow hold, the better you will sound, so be sure to pay much attention to this chapter.
Rule of thumb:
ROUND fingers, especially the pinky and thumb.
Middle finger opposite of the thumb, index finger on the winding.
Do not place the pinky on the screw, you will stretch it that way.
The Video