How To Play In Tune On Lower Strings
How can it happen that when you play in tune on the E and A string, you might be playing out of tune on the D and G string?
If you place your 1st finger correctly on the A-string, your finger will be placed against nut of the violin, see picture below.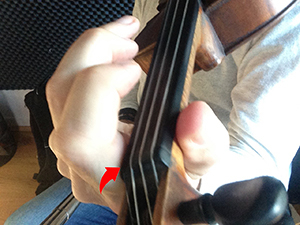 That contact point will work as a pivot point. (Red arrow)
If you want to reach the G-string, what I see often is that the student turns the left hand.
With that pivot point (red arrow) your finger will turn to a different position, closer to the nut.
So, simple solution, don't turn your left hand to the lower strings, place the finger sideways to them.
Let me show you in the video:
The Video