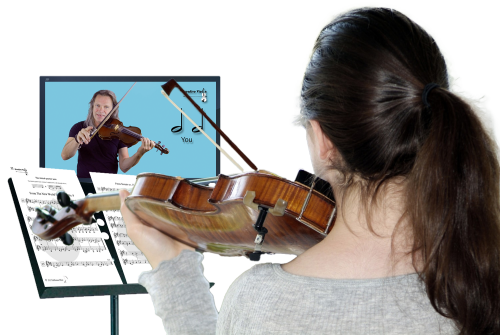 What's so new about the Creative Violin Method?
This complete beginners method has the same chronological build as many other methods, but...
Instead of only classic (like most methods) there are many music styles featured, which makes it so much more fun to study from.
Say goodbye to motivation isues!
Study with your teacher, practice daily with the videos (of all songs and exercises).
Our videos are found on our YouTube channel
Or if you have no teacher, study from the videos, all techniques are explained in detail in the first video of each lesson.
Play along with the backing-tracks (accompaniments) and host your own house concerts.
Backing-tracks are available for every song and exercise in the book and are included in the E-book.
Newest feature: Improvise right from the very beginning!!
Improvising stimulates the creative mind and is so much fun to do.
If you are a teacher you can simply integrate these improvisation parts in your lessons, your students will love them!
No improvisation skills required!