Improvising on a violin?
Most violinists are originally Classical trained, just like me.
That mostly means playing violin from sheet music.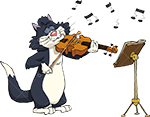 But what if you would want to close the books?
Reveal your creative potential?
There are many teachers out there who started posting improvisation lessons for violinists, but none of them start at the very beginning.
This makes it particularly hard because advanced knowledge of chords and progressions are required.
I decided to roll out a course for absolute beginners in the field of improvisation.
So, no knowledge or any improvisation experience is required, we will build this up right from the start.